4 Selection criteria for machine threading
In this article, we want to take a closer look at machine thread cutting. With the help of 4 selection criteria, we want to give you a good overview. Why are machine taps used instead of hand taps in the first place? What advantages do they bring? What about the accuracy and cutting speed of the machine tapping process? And what else needs to be considered when using them? Have fun reading!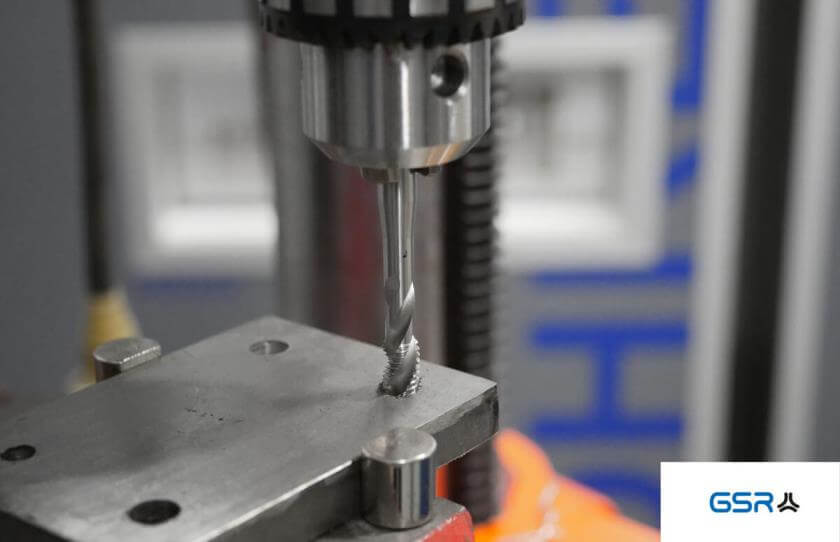 Why and when should you use machine taps instead of hand taps?
In industrial production as well as manufacturing, machine taps are preferred over hand taps because of their higher efficiency and lower production costs.
We have compiled more detailed information on the differences between hand taps, single-cut taps and machine taps in a separate article:
3 threading taps in comparison: machine tap, cut-in tap or hand tap
However, good machine taps are not the only thing that matters in the machine tapping process. The whole process requires precision. This already starts with the selection of the machines and tools used.
Which machine is suitable for your production must be checked individually. There are also special tapping chucks:
https://threadingtoolsguide.com/en/blog/tapping-chuck-for-threading/
2. Selection of machine taps
The selection of the right machine tap is of elementary importance. There is no universal application in almost all materials. However, there are universal machine taps that are suitable for machining several materials due to their special geometry. In general, however, it all depends on the individual needs and requirements of the project. Below we can show a small overview of the machine taps.
Our GSR Silver machine taps are suitable for a wide range of materials.
Do you need individual advice on choosing the right machine tap?
Please contact us by phone or write us an e-mail info [ at ]gsr-germany .de.
We will be glad to help you!
3. Selection of the cutting speed
The selection of the correct cutting speed is mainly determined by these factors:
The material to be machined
Material or coating of the tap
Tap geometry
Diameter of the tap
Coolant or lubricantBearbeitendes Material
The following orientation applies:
If the workpiece is cooled with sufficient cutting oil or emulsion, the cutting speed should be selected approximately as follows:
Good-chipping steels up to approx. 700 N/mm² – 10 to 15 m/min
Good machinable steels up to approx. 900 N/mm² – 5 to 10 m/min
Heat-treated and heat-resistant steels up to 1100 N/mm² – 4 to 6 m/min
Stainless steels – 5 to 10 m/min
Tool steels high-strength steels from approx.1100N/mm² – 2 to 5 m/min
The indicated cutting speeds are guideline values and would have to be adapted to the working conditions. The coated taps, for example, can be used with higher cutting speeds.
4. Selection of coolants and lubricants
When tapping, the cutting fluid is mainly selected according to the material to be machined. In particular, when tapping with machine taps, care must be taken to ensure adequate cooling and lubrication to prevent tool breakage.
For metallic materials, an emulsion (emulsion is a solution of drilling oil in water 1:10 to 1:15) is usually used; for plastics, emulsified oil or vulcanized cutting oil can usually be used. If the surface roughness value of the threaded hole on the workpiece is low, environmentally friendly thread cutting agents and thread pastes can be used.
Conclusion:
When using machine taps as well as machine tapping, it is not only the tap itself that matters. Rather, for a good cutting result, one must also pay attention to the selection of the material, the drill and the lubricant. In addition, the cutting speed plays a major role. With machine thread cutting, it always comes down to individual production and manufacturing.
Do you have questions or need help selecting the right machine tap?
We will be happy to advise and inform you!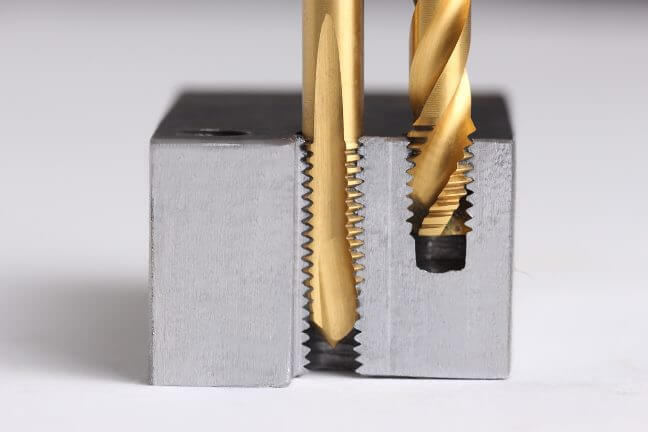 Other helpful sources:
Did you like this article? Do you have any questions or feedback? Write to us.