Pneumatic threading machine or pneumatic threading arm is ideal if you often do threading. The thread tapping machine is also known under the name of "air tapping machine".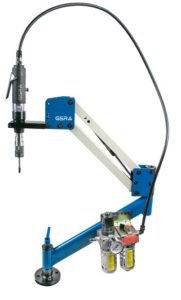 What is a pneumatic threading machine?
Pneumatic tapping machines consist of a compressed air driven drive spindle, a parallel arm that can be screwed to a workbench and various tap adapters for the different square sizes. So you can cut threads quickly and safely with great precision.
The machine is supplied with six quick-change holders and covers the working range from M3 to M12.
With a swivel device, you can cut threads in oblique holes without aligning the workpiece.
Quick change system on the threading machine:
The tapping machine or tapping arm is supplied with six safety slip clutches of your choice, in the ranges M3 to M12
Compressed air unit of the pneumatic threading machine:
The compressed air unit consists of a compressed air filter with regulator and a mist lubricator. The pressure of the compressed air unit can be adjusted at the upper adjustment knob. The knob
is released by pulling it out. Turning clockwise increases the pressure, turning counterclockwise reduces the pressure. To prevent accidental adjustment, the knob can be fixed in the starting position. The compressed air is filtered – water and dust are automatically expelled when the pressure is below 0.7kg/cm2. The valve can also be operated manually. The mist lubricator mixes the compressed air with oil. The quantity can be adjusted via the oil adjustment screw.
Product information
Technical details:
Rotation speed: 400 rpm
Working length: 950mm
Weight: 15kg
Working range: M3 – M12
Pressure: 6 bar
Air requirement: 750 l/min
* The illustration and technical data on this page describe our machine with article number – 00920020
Video tutorial of the air tapping machine
Further information about the threading machine can be found here:
Pneumatic tapping arm with additional arm
Article
for tapping
Revolutions (rpm)
Torque
Working radius
Air requirement
Weight
00921010
M2~M8
700
12 (n-m)
max 1900 mm min 200 mm
840 Liter/min
20
00921020
M3~M12
400
32 (n-m)
840 Liter/min
20
00921030
M3~M16
300
52 (n-m)
935 Liter/min
25
00921040
M3~M20
150/400
90 (n-m)
935 Liter/min
36
00921050
M3~M22
120/300
100 (n-m)
935 Liter/min
36
00921060
M3~M24
100/300
130 (n-m)
935 Liter/min
36
00921070
M3~M27
70/220
160 (n-m)
935 Liter/min
36
00921080
M3~M30
40/200
190 (n-m)
935 Liter/min
36