With the new official thread calculator app from GSR Gustav Stursberg GmbH, you have all the data you need for thread machining at your fingertips. In the middle of the year, we have something very special up our sleeve. Our app developers have spared no effort and have given the GSR thread calculator app a major update.
It's intuitive and easy to use. Available for iOS and Android.
Choose from: Thread Cutting, Thread Forming or Thread Repair and determine the appropriate core hole and roughing diameters.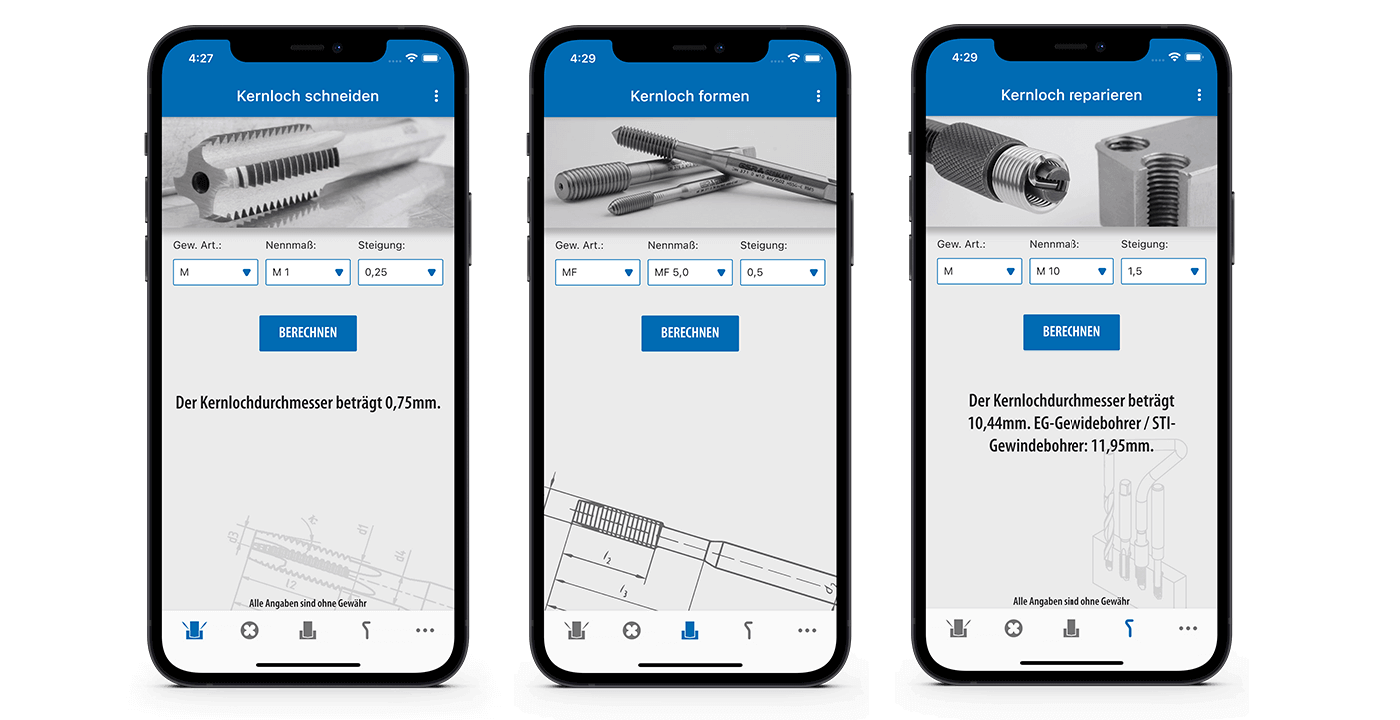 GSR Thread Calculator App for IOS and Android
There is news to report from the think tank. Our programmers have been busy revising the GSR Thread Calculator. An improved and intuitive design ensures that the correct value is found even faster. But not only the design has been improved. The app is now also available for download for Apple iOS and Android devices. Permanently free of charge and without annoying advertising!
The app now combines three calculators in one application: thread cutting, thread forming and thread reparation. In addition, the scope of the table has been expanded to include more metric and imperial thread types. A detailed list of the supported thread types can be found further down in the blog post.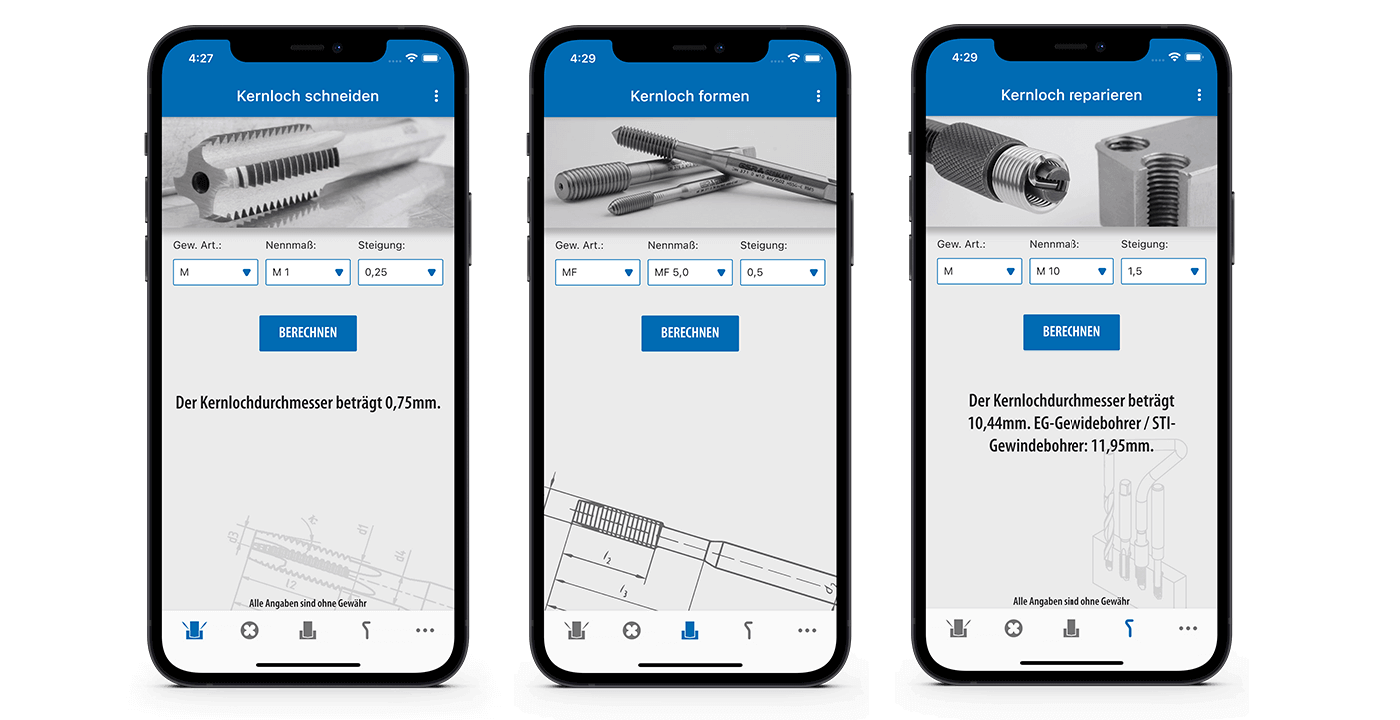 What can the GSR Thread Calculator App do?
More calculators
More thread types
More languages
3 calculators in one app
At the request of app users, the following calculators have been added:
Core hole dimensions and roughing diameters for thread cutting
Core hole dimensions for thread forming
Core hole dimensions for thread repair (insert thread / coil repair)
List of available thread types
More thread types – More thread types and diameters have been added to the core hole dimensions for thread cutting:
Metric ISO standard thread DIN 13
ISO Metric Fine Thread DIN 13
UNC – Unified Coarse Thread Series is the US-American standard thread
UNEF – Unified Fine Thread Series is a US-American fine thread
UNF – Unified National Fine Thread is the US-American fine thread
UNR – Unified Thread Series ( external thread controlled root radius)
UNS – Unified Special Thread is a US-American thread.
NPT– National Pipe Taper is a US-American pipe thread
NPTF – National Pipe Taper Fuel is a US pipe thread.
NPSC – National Pipe Straight Coupling is a US pipe thread.
NPSF – National Pipe Straight Fuel is a US-American pipe thread.
NPSL – National Pipe Straight Loose is a US-American pipe thread
NPSM / NPS – National Pipe Straight Mechanical is a US pipe thread.
BA – British Association to BS 93 is a British standard thread.
BSB – British Standard Brass is a British pipe thread.
BSF – British Standard Fine Thread is a British Whitworth fine thread
BSW – British Standard Whitworth is the British Whitworth standard thread
BSPP – British Standard Pipe Parallel is a parallel Whitworth pipe thread
BSPT – British Standard Pipe Thread is a tapered Whitworth pipe thread
Tr – Trapezoidal Thread to DIN 103 is a lead screw thread
Tr Fine – Trapezoidal Fine Thread
List of available languages
As our customers are at home all over the world, the app is not only available in German:
German, English, French, Portuguese, Russian, Spanish, Chinese (traditional) and Chinese (simplified).
Additional features of the app
In the menu bar of the app, you will also find links to our shop, blog as well as the homepage and other social media channels, such as our WhatsApp support.
Download the GSR App
The GSR Thread Calculator App can be downloaded free of charge from the Google Playstore or Apple iOS Store. The minimum requirement is the Android operating system Ice Cream Sandwich 4.0.3. or iOS 9.0.


What do you need the Thread Calculator App for?
Apart from thread determination, by far the most enquiries from our readers deal with the topics of core hole drilling for internal threads and pre-working diameter for external threads. We have lists on our blog for this, from which you can search for the corresponding dimensions. This is cumbersome and time-consuming, as technical tables and lists are not always available. Internet research can also be very cumbersome at times.
Digital transformation with apps
So what could be more obvious than to think about how to "digitalise" this process. Since people nowadays always have a smartphone with them, the solution idea was quickly at hand: we develop our own application software for this purpose.
With the help of an interdisciplinary team of programmers, online marketing managers and UX designers, the first version (2018) of the entire software was created in-house. For the iOS version (2021), we were fortunate to be able to win external partners for our project.
Design and usability of the app
Our guiding principle was to create a user-friendly user experience paired with a modern design. The navigation concept of the GSR app is deliberately kept simple and minimalistic and also reflects our corporate identity.
We hope you enjoy the update (version 3.0.1) and look forward to your feedback, suggestions or criticism!