How do I determine a thread?
We get customer inquiries again and again with the request to determine the thread. For this reason, we have decided to publish the thread specifications and to write down our procedure step-by-step as instructions. Gradually, more instructions for thread determination will appear in this section.
The aim of this series of articles is to enable you to determine your own thread at the end of the day!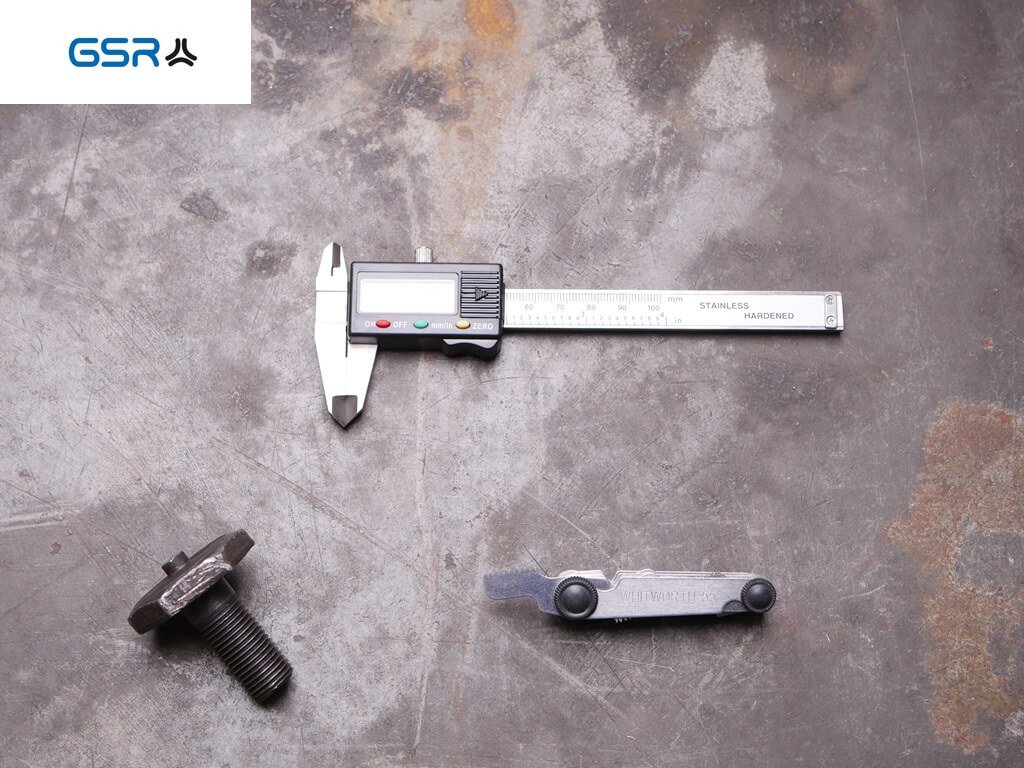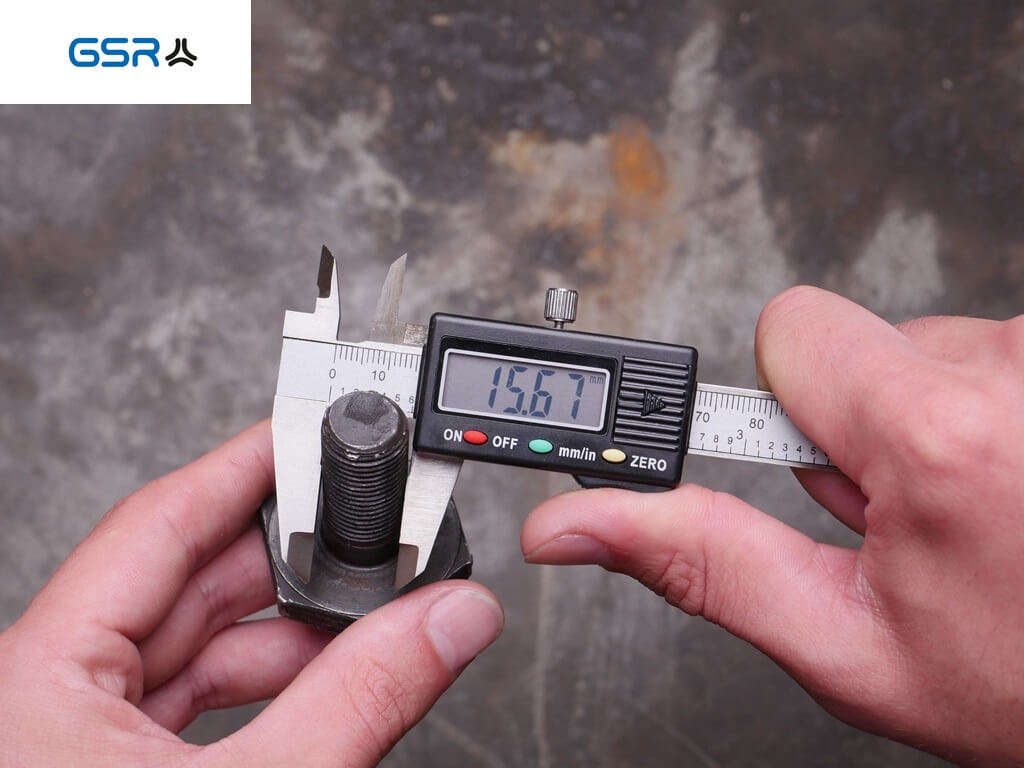 Thread determination
In order to determine an unknown thread, two specifications are necessary: the pitch and the outer diameter for the bolt thread and the inner diameter for the nut thread.
The pitch of a thread is the distance from one flank to the other in mm for the metric system or the number of turns per inch for the inch thread
First measure the diameter of the thread with a calliper. Using the conversion table below, you can determine the inch dimension as a metric dimension and convert it. By definition, one inch is 25.4 mm. The diameter therefore tells you whether the thread is metric or inch.
Then the thread template is used. Please check the individual thread templates until one of the templates can be fitted exactly into the threads. Then read off the desired pitch, which is printed on the thread template.
Now use the enclosed caliper gauge, which contains all the information on the individual thread types. If no information is available to give a sufficiently reliable result, we recommend that you first repeat the series of measurements, as there may be a measuring error. If you are not successful here, please contact us directly. We will be glad to help you.
Step-by-step instructions for thread determination: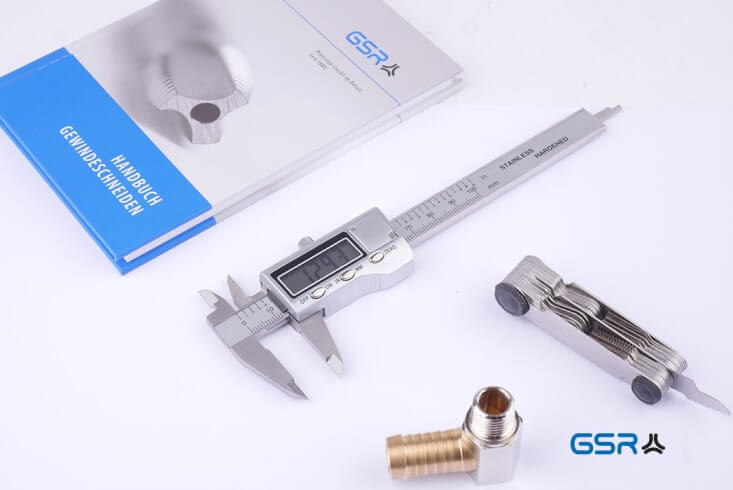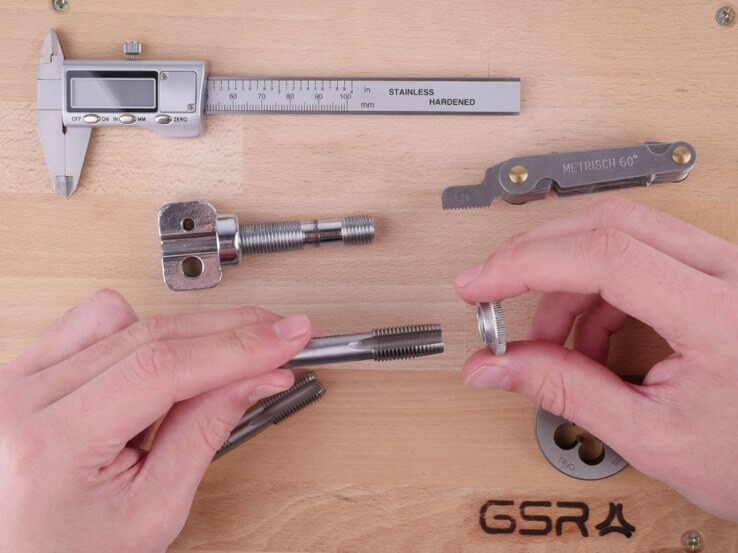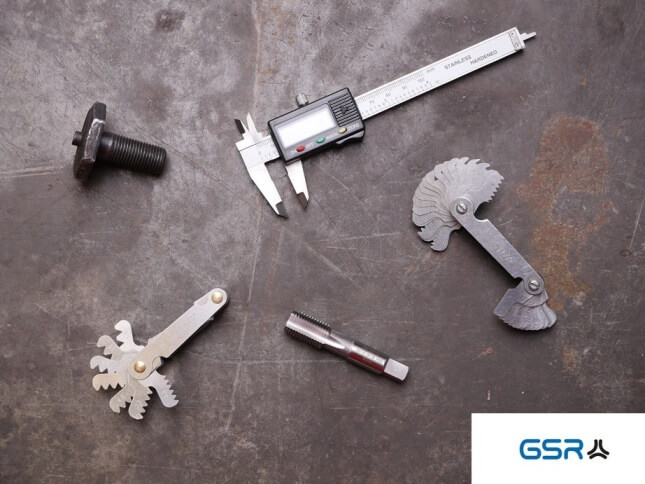 ---
Conversion table: Thread comparison table

Ø
Inch Decimal
BSW
UNC
UNF
UNEF
BSF
core-Ø
cone-Ø
threading-Ø
thread pro 1″
thread pro 1″
thread pro 1″
thread pro 1″
thread pro 1″
Nr. 0
0,0598
80
1,2
1,49
1,52
Nr. 1
0,0728
64
72
1,5
1,79
1,85
Nr. 2
0,0858
56
64
1,8
2,1
2,18
Nr. 3
0,0992
48
56
2,1
2,41
2,52
Nr. 4
0,1122
40
48
2,4
2,77
2,85
Nr. 5
0,1248
40
44
2,6
3,09
3,17
Nr. 6
0,1378
32
40
2,9
3,41
3,5
Nr. 8
0,1638
32
36
3,5
4,02
4,16
Nr. 10
0,1902
24
32
4
4,71
4,83
Nr. 12
0,2161
24
28
32
4,6
5,37
5,49
1/16″
0,0625
60
1,2
1,55
1,587
3/32″
0,0937
48
1,9
2,3
2,381
1/8″
0,125
40
2,6
3,09
3,175
5/32″
0,1563
32
3,2
3,88
3,969
3/16″
0,1875
24
32
3,8
4,61
4,762
7/32″
0,2187
24
28
4,6
5,43
5,556
1/4″
0,25
20
20
28
32
26
5,1
6,17
6,35
5/16″
0,3125
18
18
24
32
22
6,5
7,76
7,938
3/8″
0,375
16
16
24
32
20
7,9
9,3
9,525
7/16″
0,4375
14
14
20
28
18
9,3
10,9
11,113
1/2″
0,5
12
13
20
28
16
10,5
12,44
12,7
9/16″
0,5625
12
18
24
16
12,3
13,9
14,288
5/8″
0,625
11
11
18
24
14
13,5
14,82
15,876
11/16″
0,6875
24
14
16,5
17,05
17,463
3/4″
0,75
10
10
16
20
12
16,5
18,76
19,051
13/16″
0,8125
20
12
19,5
20,33
20,638
7/8″
0,875
9
9
14
20
11
19,5
21,9
22,226
15/16″
0,9375
20
11
22,5
23,49
23,813
1″
1
8
8
12
20
10
22
25,08
25,4
1 1/16″
1,0625
18
25,5
26,63
26,988
1 1/8″
1,125
7
7
12
18
9
25
28,11
28,576
1 3/16″
1,1875
18
28,7
29,75
30,163
1 1/4″
1,25
7
7
12
18
9
28
31,35
31,751
1 5/16″
1,3125
18
32
32,9
33,338
1 3/8″
1,375
6
6
12
18
8
30,5
34,49
34,926
1 7/16″
1,4375
18
35
36,2
36,512
1 1/2″
1,5
6
6
12
18
8
33,5
37,67
38,101
1 5/8″
1,625
5
5
18
8
35,5
41
41,277
1 3/4″
1,75
5
5
18
7
39
44
44,452
1 7/8″
1,875
4,5
4,5
18
41,5
47,22
47,627
2 "
2
4,5
4,5
18
7
44,5
50,3
50,8
2 1/4″
2,25
4
4,5
50,8
56,75
57,152
2 1/2″
2,5
4
4
57,15
63,05
63,502
2 3/4″
2,75
3,5
4
62
69,25
69,853
3″
3
3,5
4
68,95
75,75
76,203
Core hole diameters are standard values,
which may vary depending on the number of gears.

Click here to download the thread comparison table free of charge