Thread Repair: Threaded Wire Inserts and Thread Armoring.
Thread repair is known by many names. It is often referred to as thread inserts or even thread armoring. Thread wire inserts can be used to restore defective, broken or stripped threads with the same nominal diameter. An additional advantage is that the wire inserts can be used to create load-bearing screw connections with metallic and plastic materials.
What is thread reinforcement?
Thread repair inserts are used to repair defective threads while maintaining the nominal diameter or to strengthen threads while maintaining the nominal diameter (thread armoring).
The following tools are required: Core hole spiral tap, special tap, insertion tool and edge breaker. Stainless steel thread inserts ensure very good corrosion resistance and heat resistance. The cross section is diamond-shaped.The wire is coiled into an elastic spring. At the bottom end there is a driving pin. When the thread insert is screwed in, the spring is slightly tensioned and holds the insert in the external thread. The thread insert is therefore larger when screwed in than in its original state. There are three sizes in total, each aligned with the nominal dimension ( 1xd, 2xd and 3 x d).
Product advantages of the thread separating inserts?
The inserts are extremely durable and corrosion resistant. In addition, the tensile force is evenly distributed in the threaded insert. The inserts serve as additional armor.
Click here for the article: How to repair a broken thread in 11 steps
Here you can find the suitable thread repair kits in our shop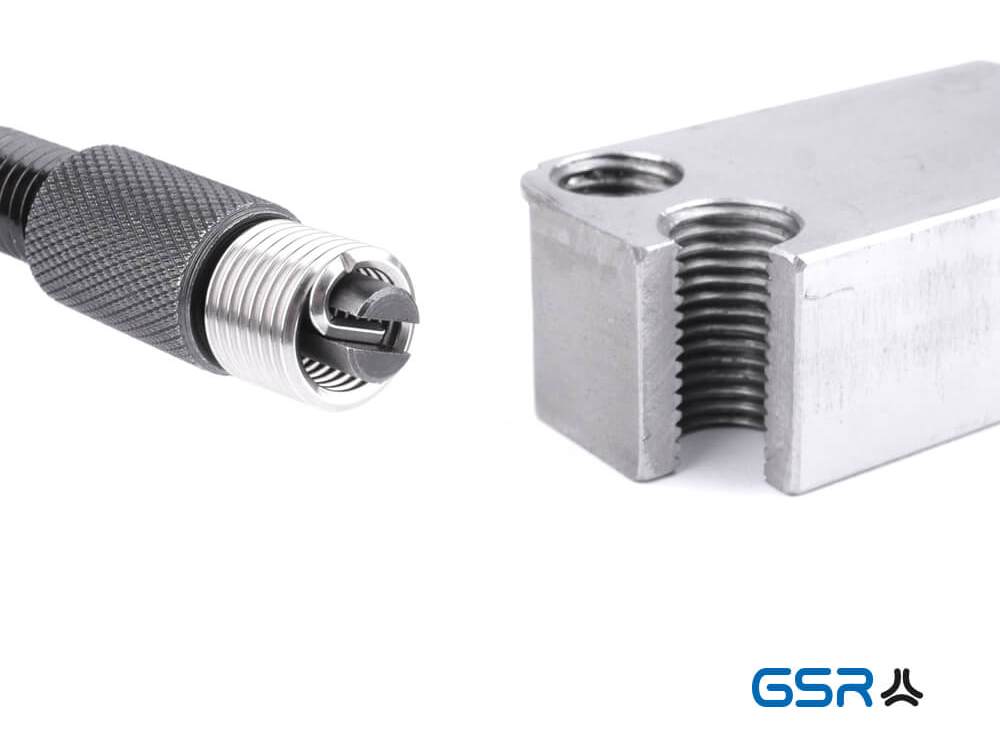 GSR Thread Repair System
If you are looking for a permanent and durable solution to repair a defective thread, then you are on the safe side if you choose the GSR Coil Repair System. This allows you to restore the nominal dimension of the defective thread. Often, the thread treated in this way is even more resilient than the original thread. This is then also referred to as "thread armoring".  This is especially true for materials with low shear strength such as aluminum or other non-ferrous metals.
 Procedure for thread repair
First of all, once again the important advice to put on your personal protective equipment (PPE) before you start working. Please also follow the safety instructions for drilling and thread cutting in any case. The first step in thread repair is to determine the thread. Then you can provide the appropriate wire inserts (GSR inserts) and the necessary system tools. THE GSR CORE HOLE SPIRAL DRILL The first step after the determination is the selection of the right drill. In this case, we drill a core hole for a so-called insert thread (EG). In this case we speak of a so-called holding thread. We recommend a twist drill made of HSS material with a helix ground from the solid material. The common abbreviation is HSS-G. A splitpoint gate is not absolutely necessary for this application. GSR core hole twist drills comply with this recommendation. In the Google Play Store you can find the GSR thread calculator app. You can use this app to find all core hole sizes for all thread types as well as for insert threads and for taps.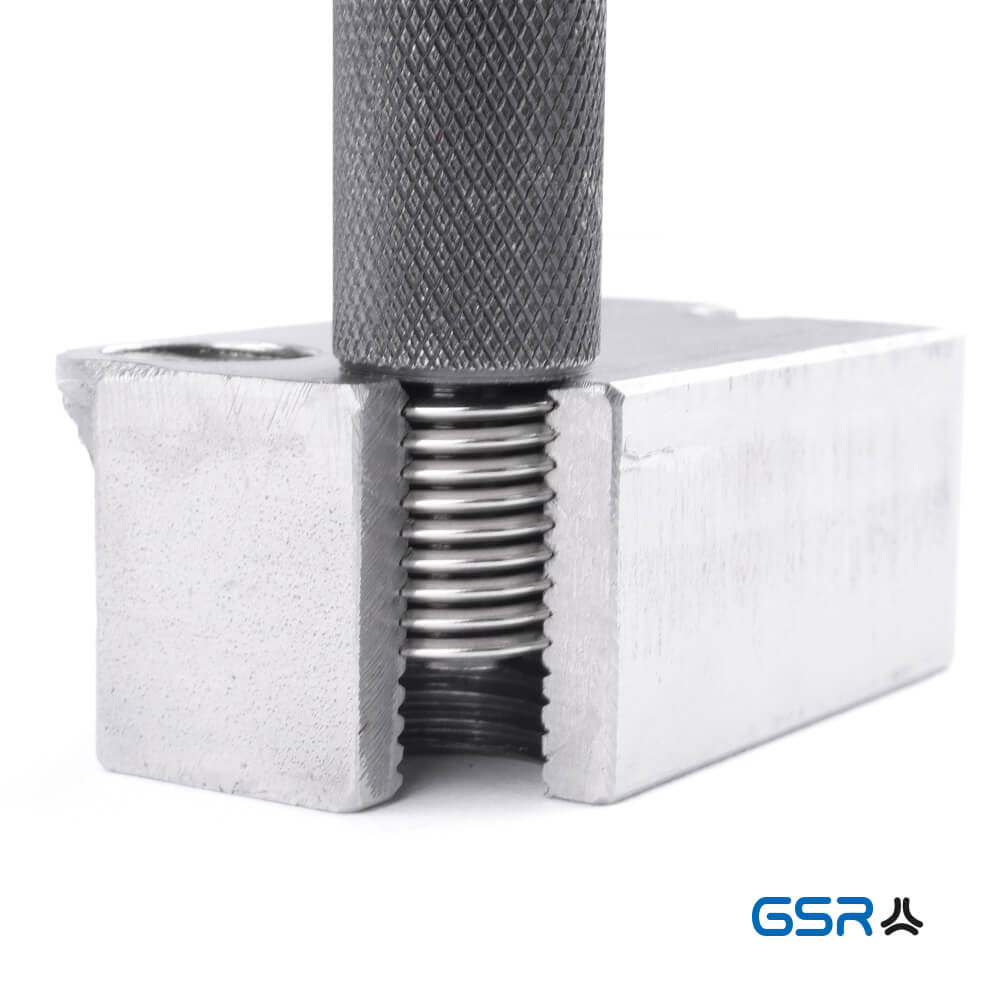 Tap for cutting the holding thread (STI thread).
The profile of the holding thread is regulated in the DIN standard ( DIN 8140 1-3).
For the production of a holding thread a special tap is necessary. In the German standard one speaks of EG thread, the international designation is STI thread. STI stands for Screw Tap Inserts. There are different types of taps to produce a holding thread: Hand tap set with pre-cutter, center tap and finish tap or single tap with long gate. For thread repair, we recommend the GSR single-cut tap for the insert thread. It has a 3-4 thread gate and is sufficient to cut a full holding thread. In addition, you will need a holding tool for the square of the tap. Adjustable tap wrenches or tool holders with ratchets do a good job here.
Insertion tool and tang breaker
These two tools are necessary to assemble the wire insert. They are made of tool steel. The insertion tool has a powder-coated handle and an adjustable cap nut. The threaded wire insert is mounted on the insertion tool and then screwed in. The tang breaker is burnished, has a knurled shank and a flattened head. It is used to break off the threaded tang.
The most popular sizes for thread repair are M6, M8 and M10, as well as M10 x1, M12 x 1.5 and M14 x 1.5.
It was invented by the US Americans in the 1940s. It became known in Germany under the trademark Helicoil. The market share of Helicoil in Germany was once so high that Helicoil became the generic term for this type of thread repair. In the meantime, these systems are offered under different brand names (Bair Coil, V-Coil).  Since they are all based on a DIN standard, they are generally compatible with each other.
You can buy thread repair sets here in the store. Please ask for not so common sizes. We have a wide and deep assortment of other sizes in stock.
There are sets for single sizes ( e.g. M 6 ) and large thread repair sets for M 5 – M12.
Thread repair sets belong in every workshop in trade and industry.
Thread inserts and thread armorings are gaining more and more importance for additive manufacturing! You can find more information here:
Thread inserts/ thread armouring for 3D printing models
How do I repair a thread?
You can find step-by-step instructions in this article: 11 steps to thread repair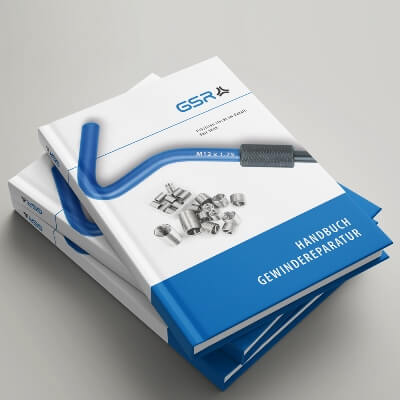 Video tutorial thread repair