Pipe thread is not equal to pipe thread
Normally 1 inch/inch corresponds to 25.4 mm for inch threads. However, a major exception to this rule is for inch pipe threads. Examples of inch threads for pipe fittings are NPT, NPTF, BSP and BSPT. Why an inch pipe thread does not correspond to 25.4 mm but to approx. 33 mm, we will take a closer look at in this blog post. Furthermore you will find a comparison table for pipe threads.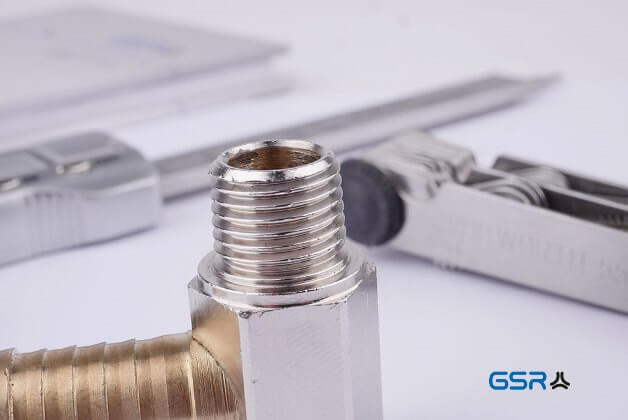 This finally puts an end to the confusion about customs threads for screw and pipe connections!
Short digression: Pipe thread types
Among the pipe thread types, a distinction is made between American (NPT and NPTF) and British Whitworth pipe threads (BSP/ G and BSPT / R). In addition, the pipe threads can be cylindrical or tapered as well as self-sealing or non-self-sealing.
A detailed blog post on the definitions and differences of the pipe threads can be found in this blog post: Important pipe thread types at a glance (NPT | NPTF | BSP | BSPT)
Important: Never mix or combine NPT threads with BSP threads!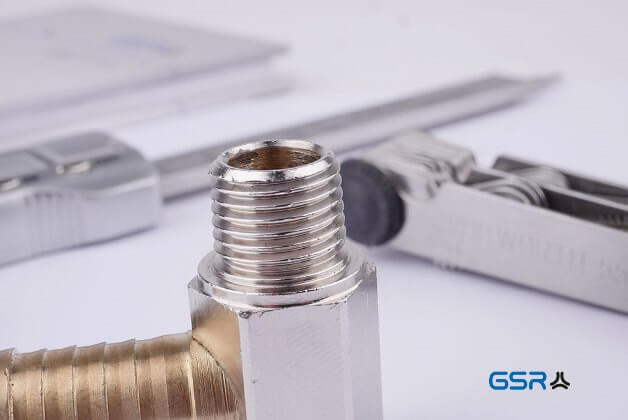 Differences between inch screw connections and pipe connections
As already mentioned in the introduction, 1 inch does not correspond to 25.4 mm for pipe threads. The conversion applies exclusively to inch screw threads.
For pipe threads, however, there is an admittedly confusing "special feature".
The specifications on pipe threads are fictitious dimensions, which are historically determined and have nothing to do with the outer diameter of the thread.
1 inch corresponds to approx. 33 mm for pipe threads.
According to DIN EN ISO 228-1 and DIN 2999 the outside diameter is: 1″ = min. 32.89 mm to max. 33.25 mm
According to DIN EN ISO 6708 and EN 10255 the outer diameter is: 1″ = 33.7 mm
If you do not know the difference between screw and pipe threads, you can read this here:
https://threadingtoolsguide.com/en/blog/the-13-most-important-thread-types-you-should-know/
Differences between the inch pipe thread types
The main differences between American and British pipe thread types are as follows:
Flank angle
Pitch
1st flank angle
American and British pipe connections should not be mixed, as they have different flank diameters. NPT has a flank angle of 60 degrees. Whereas BSP has a flank angle of 55 degrees.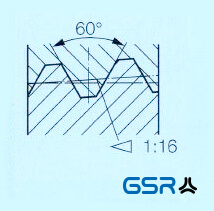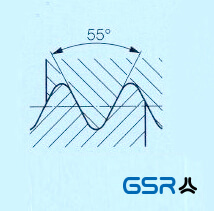 2nd pitch
For inch threads, the pitch is calculated in threads per inch/inch. NPT and BSP have different pitches. For example: 1/4″ NPT has 18 threads and 1/4″ BSP has 19 threads.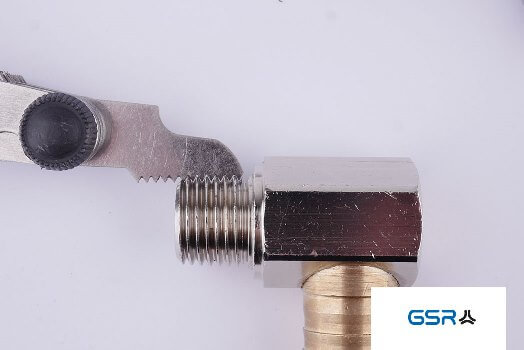 Comparison table NPT and BSP
| | | |
| --- | --- | --- |
| Pipe thread | NPT thread per inch | BSP thread per inch |
| 1/16″ | 27 | — |
| 1/8″ | 27 | 28 |
| 1/4″ | 18 | 19 |
| 3/8″ | 18 | 19 |
| 1/2″ | 14 | 14 |
| 5/8″ | — | 14 |
| 3/4″ | 14 | 14 |
| 1″ | 11 1/2 | 11 |
| 1 1/4″ | 11 1/2 | 11 |
| 1 1/2″ | 11 1/2 | 11 |
| 2″ | 11 1/2 | 11 |
| 2 1/2″ | 8 | 11 |
| 3″ | 3″ | 8 |
| 3 1/2″ | 3 1/2″ | 8 |
| 4″ | 4″ | 8 |
| 5″ | 5″ | 8 |
| 6″ | 6″ | 8 |
| 8″ | 8″ | 8 |