The adjustable tap wrench – did you know?
The winch iron holds everything square.
Some hand tools hardly change at all over the centuries. For example, the so-called adjustable tap wrench. A fixed and a movable jaw, a metal body and two chrome-plated handles with knurled ends are the few individual parts of a tap wrench.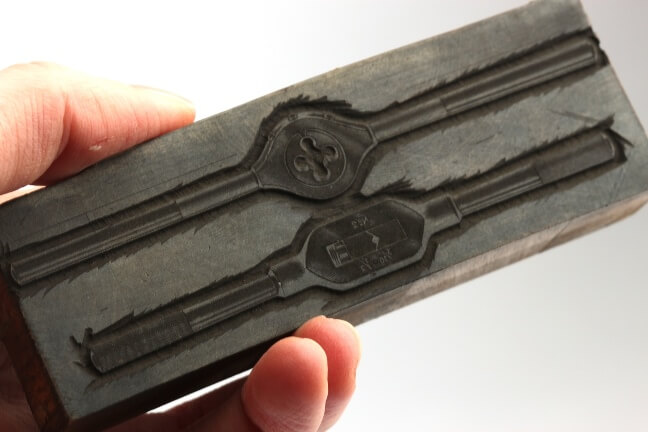 Mainly hand taps, reamers but also screw extractors are operated with these tap wrenches. The body of the tap wrench can either be cast from light metal, baked from powder steel or made from steel. The jaws are usually black burnished and hardened. The movable jaw is connected to one of the two handles via a threaded construction with right and left hand thread and can thus be adjusted.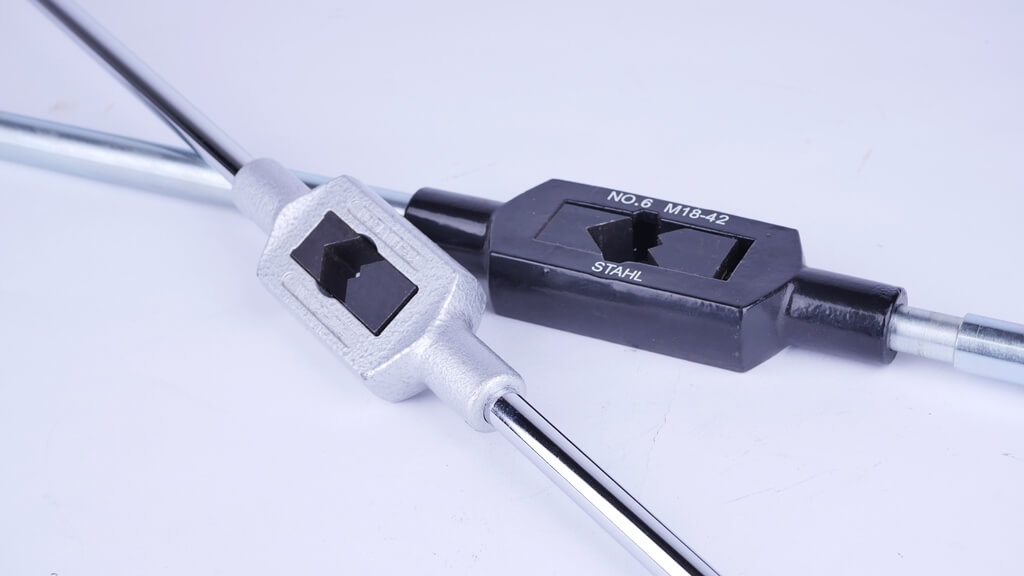 Winch irons are offered in different sizes for the different dimensions of the squares.
The essential design features are defined in DIN 1814.
Table of winch bar sizes
Adjustable die-cast zinc tap wrench DIN 1814
Size
Suitable for
Suitable for
Suitable for
Total length mm
Nr. 0
W 1/16-5/16
—
M 1-8
130
Nr. 1
W 1/16-3/8
—
M 1-10
175
Nr. 1.1/2
W 1/16-1/2
G 1/8
M 1-12
175
Nr. 2
W 5/32-1/2
G 1/8
M 4-12
280
Nr. 3
W 7/32-3/4
G 1/8-1/2
M 5-20
375
Nr. 4
W 7/16-1
G 1/4-3/4
M 9-27
470
Nr. 5
W 1/2-1.1/4
G 1/4-1
M 12-33
700
Adjustable tap wrench made of powder metal DIN 1814
Size
Suitable for
Suitable for
Suitable for
Total length mm
Nr. 0
W 1/16-5/16
—
M 1-8
136
Nr. 1
W 1/16-3/8
—
M 1-10
180
Nr. 1.1/2
W 1/16-1/2
G 1/8
M 1-12
180
Nr. 2
W 5/32-1/2
G 1/8
M 4-12
270
Nr. 3
W 7/32-3/4
G 1/8-1/2
M 5-20
355
Nr. 4
W 7/16-1
G 1/4-3/4
M 9-27
520
Nr. 5
W 1/2-1.1/4
G 1/4-1
M 12-33
615
Adjustable steel tap wrench DIN 1814
Size
Suitable for
Suitable for
Suitable for
Total length mm
Nr. 0
W 1/16-5/16
—
M 1-8
130
Nr. 1
W 1/16-3/8
—
M 1-10
180
Nr. 1.1/2
W 1/16-1/2
G 1/8
M 1-12
180
Nr. 2
W 5/32-1/2
G 1/8
M 4-12
280
Nr. 3
W 7/32-3/4
G 1/8-1/2
M 5-20
380
Nr. 4
W 7/16-1
G 1/4-3/4
M 9-27
515
Nr. 5
W 1/2-1.1/4
G 1/4-1
M 12-33
700
Nr. 6
W 3/4-1.5/8
G 1/2-1 1/4
M 18-42
1000
Nr. 7
W 1 – 2.1/8
G 3/4-1 3/4
M 25-52
1250
Nr. 8
W 1-2.1/2
G 3/4-3
M 25-68
1250
Adjustable winch irons are available in our GSR-Shop
You can find more information about the holding tools in our catalogue