What is a screw hole punches or screw punches?
Screw hole punches are used for punching holes in thin-walled materials. There is no burr. The workpiece is not deformed. The working speed is high.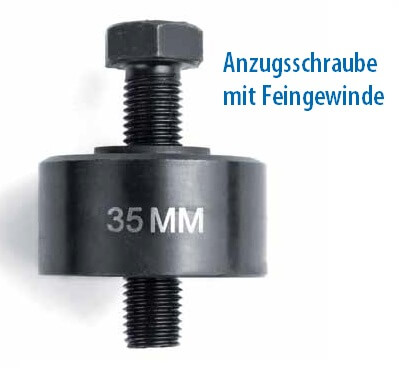 Synonyms for screw hole punches:
Further designations are for example hole cutter, hole cracker, sheet metal punch, hole punch or hole puncher.
Area of application:
Suitable for steel sheets
Stainless steel sheets
non-ferrous and light metals
Plastics
Ideal for switchgear manufacturers and electricians. The hole punch is most often used to punch a hole for the tap or a tap in the sink. Especially with thin steel sheets, one does not need a drill for such work in order not to bend the material unsightly. Instead, the screw hole puncher is used to punch the appropriate hole.
Application:
First of all, a punch hole is predrilled with a step or sheet metal peeling drill. Then the sheet metal punch is mounted and with a spanner the tension screw must be tightened bit by bit. Thanks to the three-point cut, the punch is positioned exactly. The lag screw is provided with a fine thread. The punch is hardened (HRC 48), the tempered steel is burnished and the marking is lasered.
Advantages of using hole puncher:
With the screw hole punch, thin-walled materials can be punched quickly, effortlessly, cleanly and burr-free in just a few steps.
Better support due to 3-point cut, thus less deformation of the punched parts – this prevents damage to the tension bolt.
The metric lag screws of the screw hole punches are of the highest quality class and are therefore designed for extreme loads. If they are lost, they can be replaced with commercially available metric fine-thread screws even for short-term use.
Particularly suitable for use with wrenches, hand hydraulic punches or foot hydraulic punches
You will find the two most common sizes in our online shop: