Hole saws for through holes
Through holes in workpieces of small thickness are best produced with a bi-metal hole saw. Materials such as wood, plastic, plasterboard and sheet metal (up to max. 3 mm) can be processed without any problems. However, the workpieces must not be thicker than the overall height of the hole saw used.
The tool consists of a shank, a guide drill and a hole saw with the appropriate diameter. The hole saw has a body of tool steel and a welded-on cutting ring of HSS steel. Because two different materials are used to make the hole saw, it is called a bi-metal hole saw.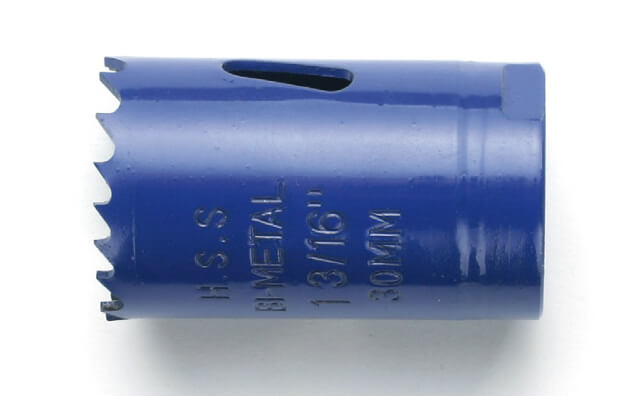 The actual cutting process is performed by the HSS saw teeth. They are set, i.e. the teeth are bent to the right and left so that the saw "cuts free" well. In addition, the teeth are arranged variably. For example, the number of teeth per inch changes between 4 and 6 teeth. The distance from tooth tip to tooth tip is once approx. 6.35 mm or 4.2 mm. This so-called variable toothing is specified in ZpZ (teeth per inch) or TPI (Teeth per inch). Here you can see an example: Vario toothing 4/6 TPI.
The hole saw is driven by a drill or a cordless screwdriver with sufficient torque.
The working method is simple: the hole saw is screwed onto the mounting body and the driving pins are inserted into the upper holes of the hole saw (Click here for the YouTube tutorial). If it doesn't fit right away, you can turn the hole saw back a little bit so that the driver pins grip. Then the saw is clamped in the drill machine.
Important: the area to be drilled must be marked and then punched. Then you can place the pilot drill precisely and let the hole saw slowly dip into the material. Be especially careful when passing through the hole saw. If the circular cutout is difficult to remove from the hole saw, use the two clamping holes and remove the cutout with a screwdriver, which you press against the workpiece from behind, for example through the chip holes.
GSR hole saws are available in HSS and HSSE design. HSSE materials are mainly used for V2A and V4 A sheets (up to max. 2 mm).
Different holders for hole saws / hole saw holders
There are different holders for hole saws. Here is an overview.
Holder with hexagonal shaft
Holder with hexagonal shaft and driving pin
Mounting with SDS shank
Mounting with SDS shank and driving pin
Both SDS and hexagonal shank holders are each fitted with an HSS ground guide drill. This can be fixed and replaced with a set screw (grub screw M8). The fixing of the hole saws is done differently depending on the dimensions. The smaller hole saws (14-30 mm) have opposing lateral surfaces for inserting a nut spanner to tighten the holding thread. The spanner widths vary between 16 and 26 mm depending on the size. From 32 mm diameter the hole saws have 2 or 4 holes for the driving pins. These are fixed by means of a locking ring to prevent slipping during use. Here it goes to our shop:
Video tutorial hole saw