How to repair a microphone thread and tripod thread: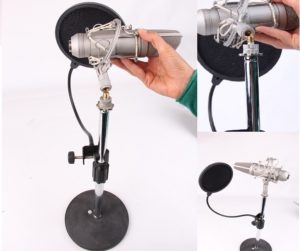 As we know it from photography (tripod thread / camera thread) a certain thread is also used in the music industry for tripods as well as microphones.
In North America, a larger thread diameter has become established for microphone tripods than in Europe. In Europe a BSW (Whitworth Coarse) thread is used. In America, however, a UNS (Special Threads of American National Form) thread is used.
Europe:
BSW 3/8″ – 16 threads per inch (pitch in mm: 1.587) The flank angle is 55°; outer diameter: 9.525 mm; core hole: 7.9mm
America:
UNS 5/8″ – 27 gears per inch (pitch in mm: 0.941) The flank angle is 60
Outer diameter: 15.875 mm; core hole 15.0 mm
So you can already see from the outside diameter whether it is a BSW thread (small diameter) or a UNS thread.
Here you will find the suitable die BSW 3/8″:
Here you will find the suitable tap set BSW 3/8″: