What is a drill chuck?
A drill chuck is a clamping device that is attached to the spindle of a drill, cordless drill, compact screwdriver, CNC machine tool or hammer drill and has the task of holding insert tools such as drills, bits and other insert tools.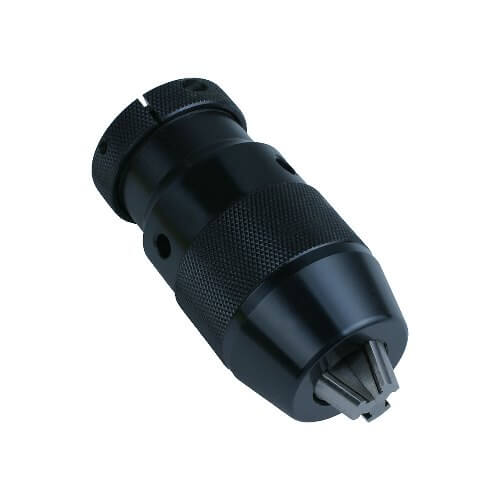 In a drill chuck, the insert tool to be fixed (drill, bit, etc.) is clamped between three clamping jaws. This has the advantage that the fixed insert tools can be easily centred. Inside the chuck there is a thread which pushes the clamping jaws into a cone during clamping and thus clamps the tool.
Gear rim drill chuck vs. quick-action drill chuck
Gear rim drill chuck
The gear rim drill chuck is the classic drill chuck in which the drill is clamped with a drill chuck key. The gear rim drill chuck gets its name from the characteristic notches that run around the drill chuck. Directly attached to the chuck is a key that is used to open and close the jaws. The gear of the key engages with the gear of the chuck.
A disadvantage of the gear rim drill chuck is that the clamping key must always be ready. If it is lost, it can sometimes be difficult to find a suitable replacement because the manufacturers use different and incompatible gear wheels. In addition, it takes longer to open and close the clamping jaws.
In our picture you can see the gear rim drill chuck with a suitable drill chuck key or clamping key.
Quick-action drill chuck
Clamping of the insert tools is carried out without tools on the quick-action drill chuck. As the cutting forces increase, the chuck reclamps automatically. The chuck can also be opened easily after intensive drilling. The high concentricity makes it possible to use it also in CNC machine tools. The quick-action drill chuck is clamped by hand. Modern technology makes it possible that the insert tool is still firmly clamped, despite less manual force. The advantage of quick-action drill chucks is the quick change of drills. This is only possible because clamping is done by hand without a clamping key.
Single sleeve: The single sleeve drill chuck is the most common for drills. The clamping jaws can be easily unscrewed with one hand.
Double sleeve: The double sleeve drill chuck can be opened by hand. However, two hands are required. It has 2 rings. The clamping jaws open and close with one ring. The other ring is used to release or clamp the drill chuck.
You can also find the quick-action drill chuck in our online shop:
To the quick-action drill chuck
Did you like the article? Do you have questions or feedback? Please write to us.