In this article we give you an overview of all measuring tools for thread determination. At first a short description of the thread determination follows.
How do I determine an unknown thread?
In order to determine an unknown thread, two specifications are necessary: the pitch and the outer diameter for bolt threads and the inner diameter for nut threads. The pitch of a thread is the distance from one flank to the other in mm for metric systems or the number of threads on one inch for inch threads.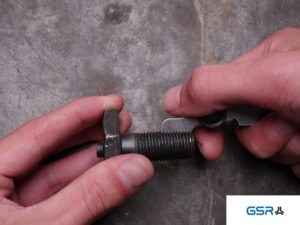 First measure the diameter of the thread with a calliper. Using the conversion table below, you can determine the inch dimension metric dimension and convert it. By definition, one inch is 25.4 mm. The diameter therefore tells you whether the thread is metric or inch.
Then the thread template is used. Please check the individual thread template sheets until one of the templates can be fitted exactly into the threads. Then read off the desired pitch, which is printed on the thread template.
Measuring tools for thread determination
Rotation table:
The rotation tables are installed in a stable plastic housing. There are three different types. The filetor shows all data which are necessary to determine a thread. The tolerator shows all tolerance values up to 500 mm. The Convertor is a dimension converter from millimetre to inch and vice versa.
All rotation tables are available on request.
Threaded slide:
The threaded slide is made of aluminium and the graduation is printed in black. It contains all dimensions for thread determination for metric threads (Whitworth thread and pipe thread).
Digital calliper:
The calipers have cross tips, depth gauge and a locking screw. The precision mechanism is made of stainless steel and hardened. The batteries for operating the large digital LCD display are replaceable. There is also an RS232 data output. Together with a spare battery, the caliper is packed in a sturdy plastic case.
Thread gauge:
Thread templates are suitable for internal and external measurements of the pitch of a thread. They work according to the light gap method. The template is placed on the thread to be tested and it is checked whether the pitch of the thread corresponds to the template. The thread template depicts one pitch of a thread at a time. Different templates are combined in a fan-like manner in a holding device. There are different combinations of blades for metric and inch threads from 6 sheets up to 58 sheets in one tool fixture
Further information is available here: https://gsr-germany.de/en/catalogue/