All-in-one vice for industry and hobby users
When thread cutting in small workpieces, it is important that the workpiece can be clamped straight and firmly. For external threading, a vertical and horizontal device for clamping round bars must also be available. It would still be ideal if the vice could be used both on the workbench and on the base plate of a pillar drilling machine. The Combi-Clamp GSR vice combines these functions and makes the smart, small vice a compact universalist: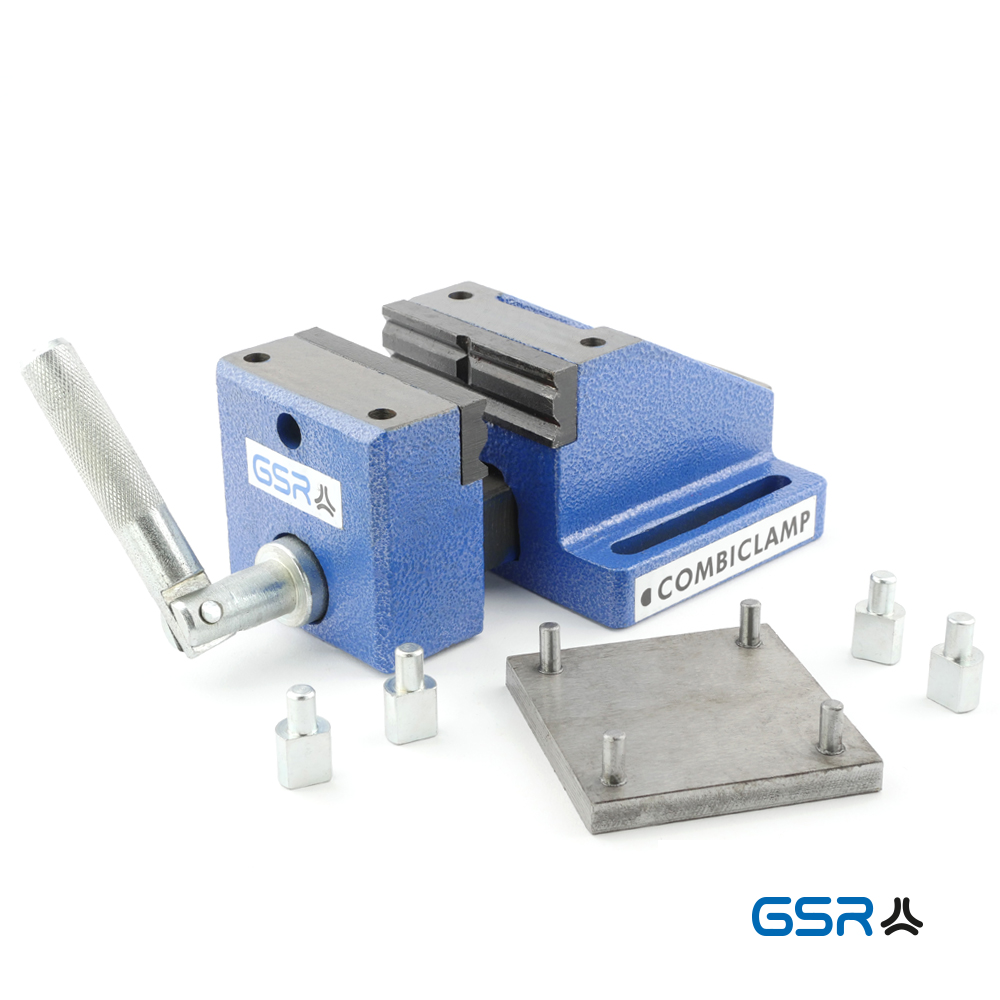 Machine vice and bench vice
Combi-Clamp is a combination of machine vice and bench vice in compact design with a jaw width of 80 mm and a clamping width of 115 mm and a total weight of 4 kg.
The precision vice body consists of a fixed part and a sliding part and is open towards the front.
The impact-resistant body is made of nodular cast iron. Despite its compact design, it is suitable for rough use on the machine or on the workbench. At the test of the VPA in Remscheid (see: Selbst ist der Mann No. 2 / February 2014) the "little one" passed all tests without damage and received the overall mark "excellent" at the end.
Technical details
Hardened vice jaws with horizontal and vertical prisms for clamping round material
Easy changing of the jaws due to jaw attachment with a screw that can be removed from the outside
Spindle with rolled trapezoidal thread for highest and even clamping force up to 1.5 tons
Cast-in lock nut for mounting the guide spindle
Spindle safety device to prevent the sliding part from being unscrewed inadvertently
Oblong holes for fixing on the workbench or on the pillar drilling machine 
Short, adjustable toggle for clamping in all vice positions
Weight: 4 kg
Size (L x W x H, cm): 24 x 13 x 9
width of the holding jaws: 80 mm
Max. opening width: 115 mm
Holding jaws exchangeable: yes
Supplied accessories*: Holding pins, metal plate attachment / anvil plate
Standard accessories
Four semi-circular clamping horns for internal and external clamping of asymmetrical and round parts
Anvil plate 
Industrial quality for the workshop
Suitable for: Locksmiths, welders, metalworkers, ambitious do-it-yourselfers
You can get the vice exclusively in our store: GSR Bench Vise