Exchangeable clamping jaws and protective jaws for the vice
All DIYers know and use vices. With the help of a vice, a workpiece can be clamped between two jaws and processed. Usually one jaw is fixed to the vice and the other is manually adjustable with a crank.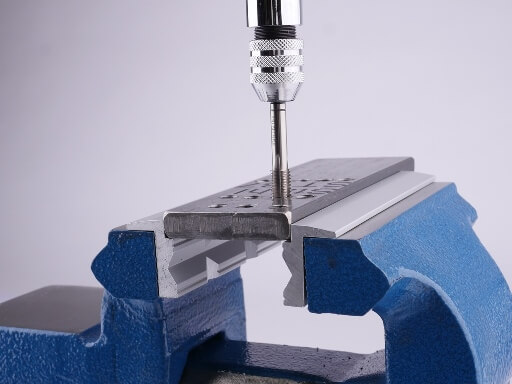 What are interchangeable jaws
In order to keep our vices as long as possible and not to damage our workpieces, there are -for protection- vices with protective jaws or protective jaws. These are also known as exchangeable or replaceable jaws.
GSR Info
are synonyms of interchangeable jaws:
Soft Jaws
Protective jaws
Interchangeable jawsRep
lacement jaws
Clamping jaws
Additional jaws
Attachable vice jaws
The most common form, however, is jaws.
Which material is available for soft jaws?
In today's article we will take a closer look at interchangeable jaws. These have a magnetic strip on the underside and can therefore be attached to the vice easily, securely and non-slip. However, there are some that do not have a magnet and have to be fixed with screws. Soft jaws can be made of aluminium or plastic. The plastic version is cheaper and protects the workpiece. However, it is also more fragile. In addition, plastic soft jaws can be shortened as desired.
A popular material combination is the aluminium jaw with rubber profile.
In what sizes or lengths are available?
Schonbackan is most often available in the following lengths: 100 mm, 125 mm and 150 mm. The plastic Schonbackan jaws can also be cut to the appropriate length.
Which protective jaws are best suited?
The choice of material and profile of the protective jaws depends on the workpiece.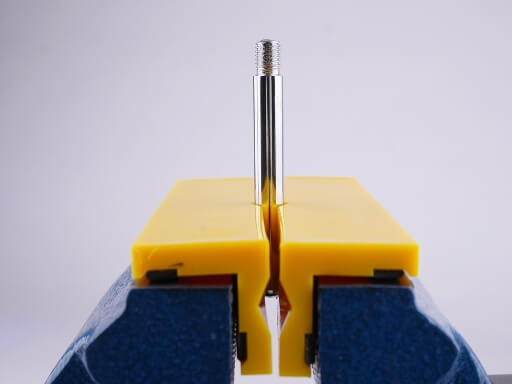 What are the available jaw profiles?
There are countless profiles for the most diverse applications and workpieces. The following is an excerpt of the most important soft-jaw profiles:
Soft jaws with smooth surface
The smooth protective jaws are mostly used for machining fine and medium coarse workpieces.
Gentle jaws with longitudinal grooves and/or transverse grooves
Gripping jaws with grooves offer a higher holding force than smooth protective jaws.
Protective jaws with prisms
As the name suggests, protective jaws with prisms have notched prisms on the profile surface. These are particularly suitable when machining tubes, for example. For this reason they are often called pipe clamping jaws. In addition, elliptical workpieces can be machined with these special protective jaws. The notches prevent the workpiece from slipping off in any direction. In the following picture, you can see a clamped pipe. The prism surface holds the workpiece.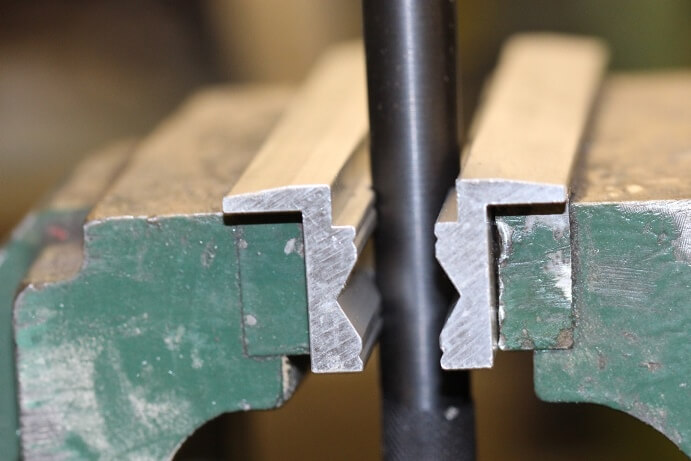 Protective jaws with rubber profile
In the case of aluminium protective jaws with rubber coating, the surface offers increased grip and allows very sensitive workpieces to be clamped gently, but still sufficiently firmly without leaving marks. The rubber-coated protective jaws are available with all possible surface patterns.
Further special features: 90 degree heel for gentle jaws
In addition to the prism profile, some of the protective jaws have a 90 degree notch. This can be used in many ways. Among other things, this allows various types of workpieces to be clamped with only one pair of protective jaws. In our pictures you can see some examples.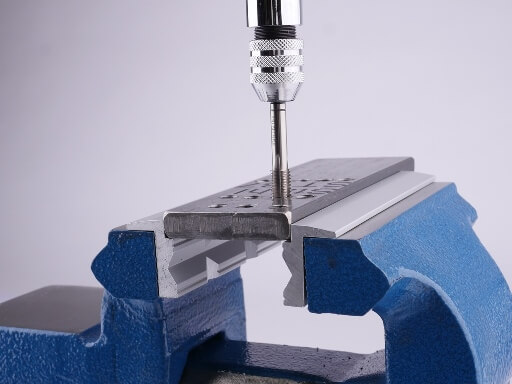 What should you pay attention to when buying protective jaws for vices?
Before buying soft jaws, you should measure the jaw width of your vise to find the right size for you. You should also think carefully about what you want to use the soft jaws for and then choose the right jaw profile. The soft jaws are always sold as a pair. Furthermore, it may be possible that some models with magnetic strips – which are used to fix the jaws to the vice – are not as strong. This is deliberately done by the manufacturer so that the chips can fall off without any problems.
You need protective jaws?
You can find protective jaws in our shop www.Gewindewerkzeuge.com
Practical use of protective jaws
In our series of pictures you can see some examples for the use of protective jaws. Soft jaws – whether made of aluminium or plastic – are indispensable in a good workshop.
For specific questions you can also use our WhatsApp service.