GSR-Gewindebohrer-Schachplatte
Kreative Gewindeidee – Gewindebohrer auf E4
« Wozu verwenden Sie Gewindeschneidwerkzeuge? »
« Zur Herstellung von Innen- bzw. Außengewinden. »
Das ist eine zu erwartende Antwort. Jedoch fördert die Leidenschaft von einigen Gewindeliebhabern bisweilen kreative Zweckentfremdungen zutage. Diese sind weit entfernt vom eigentlichen Nutzen oder Gebrauch von Gewindeschneidwerkzeugen.
In unserem heutigen Beitrag möchten wir Ihnen eine unkonventionelle Anwendungsmöglichkeit von Gewindebohrern aufzeigen.
Ein richtiges Unikat – Die GSR-Gewindebohrer-Schachplatte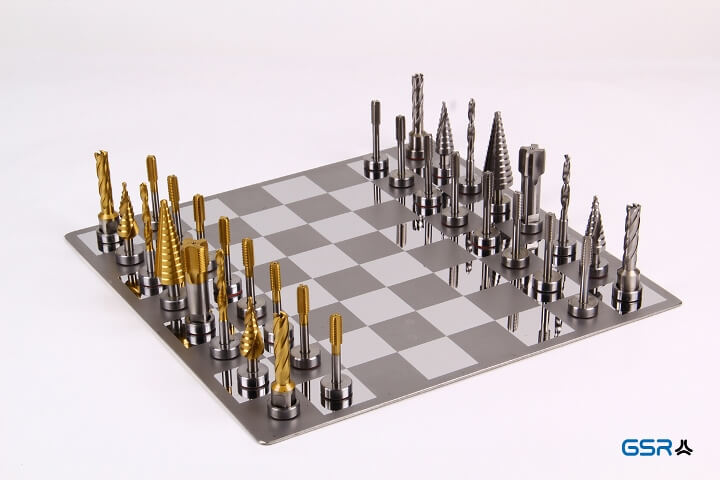 Consisting of:
Hand tap (M 10) as a farmer
Core drill as tower
Step drill with spiral groove as jumper
Combination machine taps as runner
Step drill with straight flute as lady
Hand tap (M 24) as king
The silver figures stand for the actually white people. While the golden figures stand for the black ones. These have a TiN (titanium nitride) alloy.
Our GSR quality assurance manager had the creative and original idea to use threading tools as chess pieces. The result was a stylish decoration idea for the office, which is not only nice to look at, but is also an absolutely unique piece. An ideal and unique gift idea.