Countersinking tools – Countersinking screws in metal technology
In this article we will show you how to countersink screws in metal technology. But first we will clarify what countersinking tools are actually available.
Which countersinking tools are available?
To countersink screws, you have to make a countersink after drilling. For countersunk screws you need a conical countersink, for hexagon socket screws
a planned reduction. Depending on the type of screw, countersinks or flat countersinks, also known as piloted countersinks, are used for this purpose.
The countersinking tools: Countersink
Countersinks usually have three axially and radially relief-ground cutting edges with a countersink angle of 90 degrees or 120 degrees and are made of HSS material. Countersinks with an angle of 60 degrees are used for deburring.
The countersinking tools: Flat countersinks
Countersinks with a counterbore diameter of up to five millimetres have two main cutting edges, counterbores with a diameter of more than five millimetres have three or more main cutting edges. They have a fixed guide pin to guide the tool in a
through hole or in a core hole.
The lowering procedure
counterbore lowering
The procedure for countersinking is very simple: for flat countersinking, the screw head to be countersunk is measured first.


This determines the counterbore diameter. Then the corresponding countersink is selected.

After the through hole has been made, the counterbore is used. For the countersink depth, the height of the hexagon socket screw is first measured.
For the countersinking depth, it must also be considered whether a washer is used. This dimension must then be added to the height of the bolt head. In addition, there is an allowance for the countersink depth according to DIN 974/1. From 1.4 to 6 mm this is 0.4 mm, from 6- 20 mm 0.6 mm. In this way the correct countersinking depth can be determined.
Countersinking procedure for countersink
The procedure is similar for countersinks. First, an appropriate countersink tool is selected according to the countersink angle of the countersunk screw (90 degrees) or the rivets. ( 120 degrees ) and the size of the screw head
After drilling, the taper countersink is then inserted and a corresponding profile countersink is produced.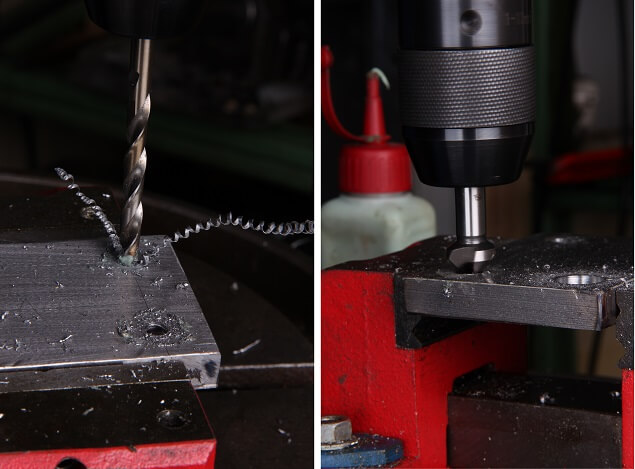 After these two operations have been completed, further operations (e.g. thread cutting) can be connected.
Countersinks and conical counterbores are available in our shop!
Video tutorials with step-by-step instructions: