Angle of rake – The angle of rake of the tap
The rake angle determines the rake foot of the material and thus determines the cutting performance of the tap. It must therefore be adapted to the mechanical properties of the material to be machined.  For this reason, the individual materials are combined into material groups, each of which has the same or similar mechanical properties. The rake angle of the tap can then be adapted to the material properties.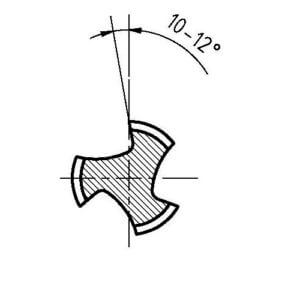 For better allocation of the taps to the individual material groups, the high-performance machine taps are marked with colour rings, each of which can be allocated to a material group.
The manufacturers do not yet have a consistent system or standardisation.
The trend is towards the following marking:
Tempered steels = red
Stainless steels = blue
Alumnium, long span= yellow
grey cast iron = white