3 thread adapters with which you can cut threads with the cordless drill
In the past it was more difficult to cut threads with a cordless screwdriver, because the torque of the cordless drills was not strong enough. And on the other hand the taps with square shank did not fit into the drill chuck with hexagonal shank.
But a lot has happened in the last few years. The cordless screwdrivers have much more power to realize higher torques. Read here, which possibilities there are to cut a thread with the cordless screwdriver.
Danger information for thread cutting with cordless screwdrivers
When threading with the cordless screwdriver, please make sure to adjust the torque to prevent overtightening and injury. Please use a cordless screwdriver with slip clutch or torque regulator or torque limiter!
How to tap a thread with a cordless drill
We present 3 thread adapters with which you can reliably perform thread cutting. Without risk of injury but in DIN-standard quality.
1. tapping adapter | The tool holder with hexagonal shank
The tapping adapter or tool holder with hexagonal shaft can be clamped into the drill chuck of the cordless screwdriver. You can clamp cutting taps and hand taps in the tapping adapter itself.
Advantages: inexpensive and suitable for hobby use. Quick internal thread cutting with the cordless screwdriver
Disadvantages: Not suitable for machine taps, no safety slip clutch
The thread cutting adapter is available in two versions:
Tapping Adapter | Toolholder with hexagonal shank M3-M8 (with 1/4 inch and hexagonal drive) (Shop)
Threading Adapter | Toolholder with hexagonal shank M5-M12 (with 3/8 inch and hexagonal drive) (Shop)
Technical details:
Diameter of the hexagonal shaft: 7 mm
span width: 3.5 – 7 mm
---
2. threading QC adapter e-Tapping with hexagonal shaft
The Thread QC Adapter is a product innovation from GSR and is part of the new e-Tapping series. The e-Tappings are cutting tools which are especially designed for cordless screwdrivers. QC stands for Quick Change. The quick-change inserts with integrated continuously adjustable safety slip clutch are suitable for square shanks according to DIN 10 to 8.5 mm.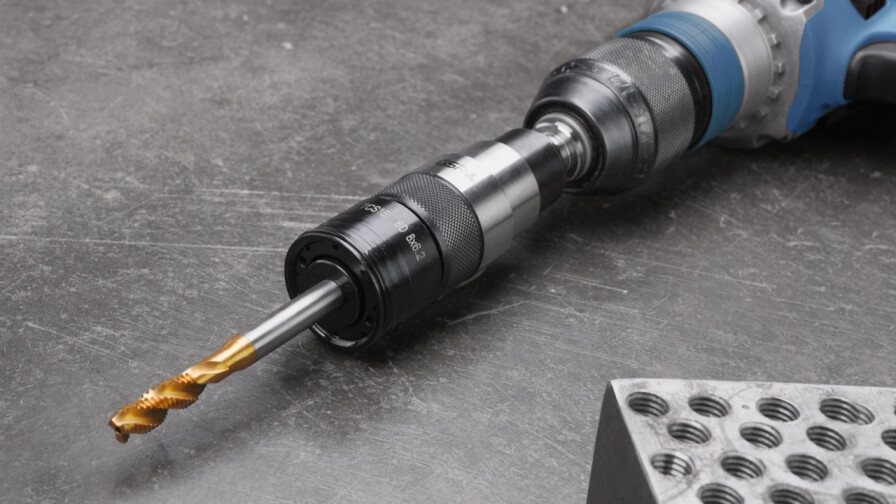 The QC adapter allows you to clamp DIN standard machine taps, cut-in taps and hand taps. We recommend machine taps from the GSR Silverline series, as these are particularly suitable for tapping with cordless drills due to their special cutting geometry.
Advantages:
Industrial professional quality. Especially suitable for metal processing.
All taps can be clamped in the quick-change inserts (machine taps, hand taps and cutting taps).
Hardly any set-up time
Fast and precise thread cutting
No tool breakage due to integrated slipping clutch
Disadvantage:
Suitable for industrial professional quality. Higher purchase costs compared to the other thread adapters
Thread QC Adapter is available as:
Threading QC Adapter (Shop)
Various thread cutting quick-change inserts (Shop)
Various threading QC adapter sets (request for information at: shop [a] gsr-germany.de)
Technical details:
Hexagonal shaft: 9 mm
Quick-change inserts: suitable for square shanks according to DIN 10 to 8.5 mm
Friction clutch: integrated and infinitely variable
---
3. combination tap bits
The combination tap bits are not tapping adapters, but for the sake of completeness they should be listed here. With the combination tap bits with hexagonal shank you can carry out three operations in one. Core hole drilling, tapping and deburring. The bits have a "¼" hexagonal shaft and can therefore be clamped in all cordless screwdrivers. They are suitable for steels, metals and plastics. Due to the system they are only suitable for short through holes. The bits are manufactured according to factory standards.
Advantages: 3-in-1 operations (core drilling, tapping and deburring)
Disadvantages: Only suitable for through holes and not for blind holes Factory standard and no DIN standard.
Combination tap bits HSSG are available here:
GSR-Tap Combination bit set M3-M10 (Article no.: 04501000)
Technical details:
Norm: Factory standard
Thread standard: Metric
Material: HSS-G
Material: steel
Hole type: trough hole<1xd
---
Write to us! We look forward to your questions, comments or feedback.
By the way, the threading QC Adapter is available in a set with a designer metal stand with workshop holder!