The fastest way to cut a thread – 3-in-1 combination tap bits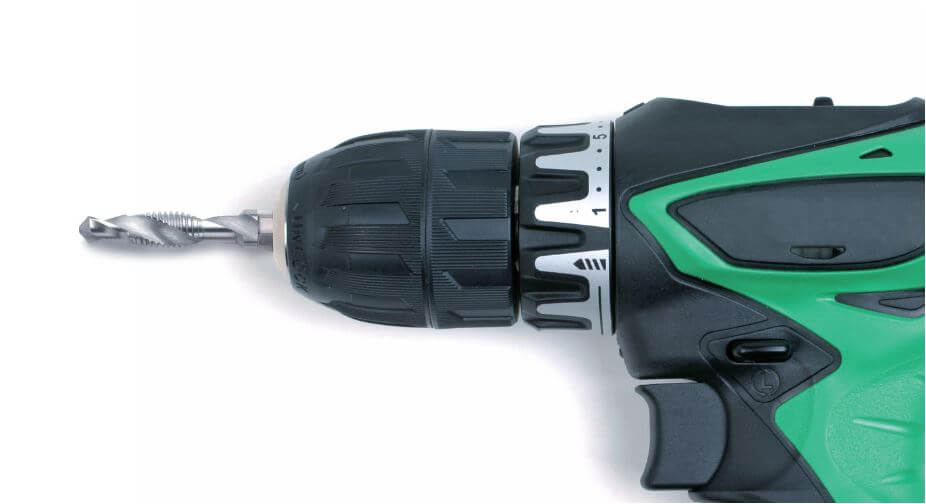 Work with the 3-in-1 combination tap bits (core drilling, tapping and deburring). In today's blog post we will show you how to cut a thread quickly and easily. But not only that.
You save time and tools with the combination tap bits.
One of the fastest ways to cut a female thread is to use combination tap bits with hexagonal shank. The bits have a "¼" hexagonal shaft and can therefore be used with all common cordless screwdrivers with torque adjustment and hand drills with left and right rotation.
he absolute special feature of the combination tap bits is that three operations can be performed with a single tool.
Core hole drilling (twist drill)
Thread cutting (thread tap)
Deburring (countersink)
The combination taps are manufactured according to factory standards and are suitable for short through holes (DuLo) with a thread depth of maximum 1 x d. Materials up to 600 N/mm2 tensile strength can be machined. This includes steels, metals and plastics up to 600 N/mm² tensile strength.
3-in-1 with the combination tap bits
1. core drilling
In the tip of the combination tap is an integrated core drill. This integrated core hole drill saves you from pre-drilling with a twist drill.
2. tapping
After the core hole drill, the tool body of the combination tap changes into an incision tap or machine tap. With this the actual thread is cut.
3. deburring
The combination tap finally turns into a countersink and deburrs the sharp points on the tap hole.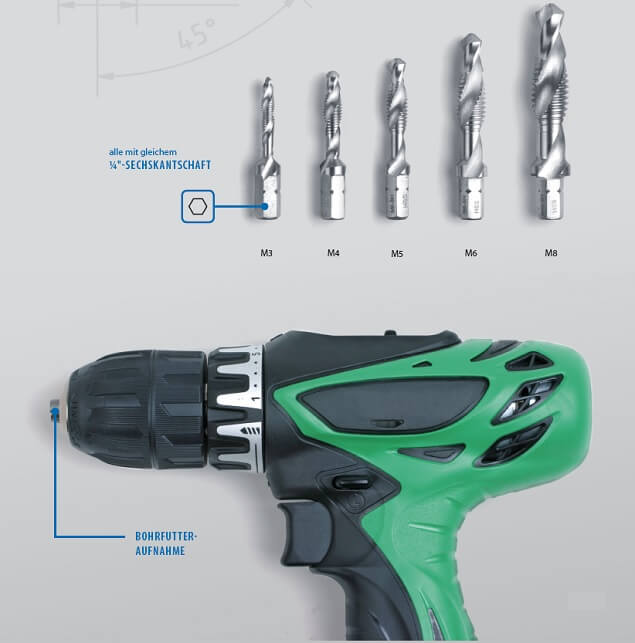 How do I cut a thread with combination tap bits?
We will show you step by step how to cut a thread using a combination tap bit. You should observe the following steps!
Please observe the general safety instructions:
Wear protective goggles!
Check the tools before use!
Always use thread cutting paste or cutting oil!
Clamp the tools firmly and securely before use!
Pay attention to the following instructions when handling combination tap bits:
Use a cordless screwdriver with torque limiter! When the drill is tilted, the force is transferred to the cordless screwdriver and then to the wrist. This leads to injuries.
In this context, please read the operating instructions of your cordless screwdriver or hand drill without fail.
Combination tap bits are only suitable for through holes.
Step-by-step instructions for drilling and cutting with a combination tap bit
Clamp the combination tap bits into the drill chuck of the cordless screwdriver. If your combi tap bit has a square instead of a hexagon, you can use a thread adapter (more on this in this article: thread adapter with hexagon shank)
Mark the workpiece with a center punch.
Align the combination tap vertically.
Then select a low speed on the cordless screwdriver for tapping.
First cut the core hole.
Then select a low speed on the cordless screwdriver for tapping.
Use a screw to check the thread
Take a look at our You-Tube tutorial:
Technical information about the combination tap bits
Combination bit for core drilling, tapping and deburring.
<"Strong" square, "strong" square.
GSR
Standard
Factory standard
Designation
Combi-Bits
Thread standard
Metric
Material
HSS-G
material to be processed
steel
hole type
trough hole <1xd
direction
right
Tolerance
6h
Nominal diameter
Pitch
D1
L1
Square
GSR
mm
mm
mm
mm
mm
Art. No.
M 3
0,5
2,5
36
1/4″
04501130
M 4
0,7
3,3
39
1/4″
04501150
M 5
0,8
4,2
41
1/4″
04501170
M 6
1
5
44
1/4″
04501190
M 8
1,25
6,8
50
1/4″
04501210
M 10
1,5
8,5
59
1/4″
04501230
Click here for the GSR shop:
What are your experiences with tap bits? Do you have any questions or suggestions? We are happy to advise you!