Apart from thread determination, by far the most inquiries from our readers deal with the topics core hole drilling for internal threads and bolt diameter for external threads. We have lists in our blog from which you can select the appropriate dimensions. This is cumbersome and time-consuming or as we say today: Old School.

Digital transformation with Apps
So what could be more obvious than to think about how to "digitalize" this process. As people nowadays always have a smartphone with them, the idea for a solution was quickly at hand: we develop our own application software for this.
The biggest hurdle: who can write such a program? By chance, a student trainee turned out to be a "Java specialist". Together with the online marketing team and the design department, the entire software could be created in-house. Six months later everything was ready.
The result:
the first GSR – thread calculator app is now available in the "Google Playstore".
The operation is very easy: You select the type of thread and the thread size and the thread calculator shows the core hole dimension for this particular type of thread. It couldn't be simpler. With a further click you switch directly to the external thread. There the premachining diameter is displayed. Permanently free of charge and without annoying advertising!
Download the app
The GSR thread calculator app is downloaded in a flash. Prerequisite is an Android operating system (at least Ice Cream Sandwich 4.0.3) in your smartphone. An iOS version of the GSR thread calculator app is already in planning.
Please try it out right away: GSR Thread Calculator App
When developing our first own native app, we initially wanted to concentrate on the Android operating system. Large manufacturers such as Google, Samsung, HTC, Huawei, Sony and so on rely on Android. According to a Statista survey, most smartphone users are currently still Android users (source: Statista.de | call: 23.01.2018).
Design and usability of the app
Our main idea was to create a user-friendly user experience combined with a modern design. The navigation concept of the GSR App is deliberately kept simple and minimalistic and furthermore reflects our corporate identity. We are looking forward to feedback, suggestions or criticism!
Preview of the GSR Thread Calculator App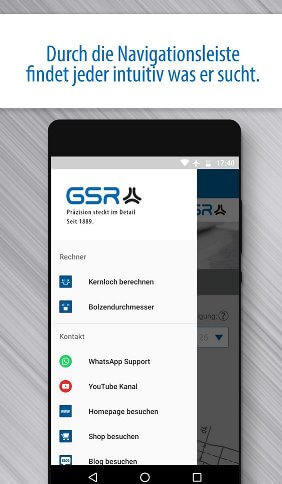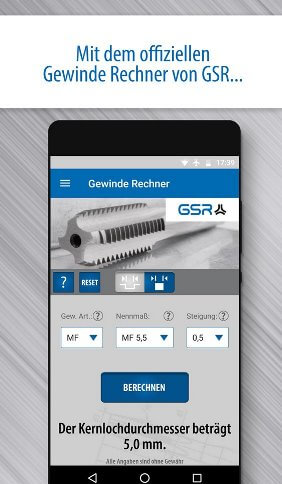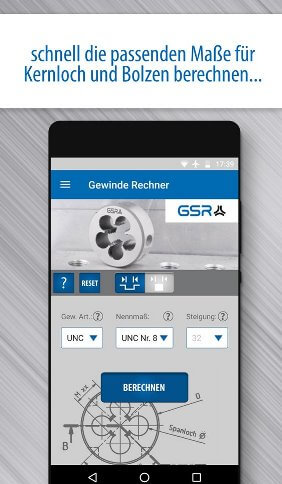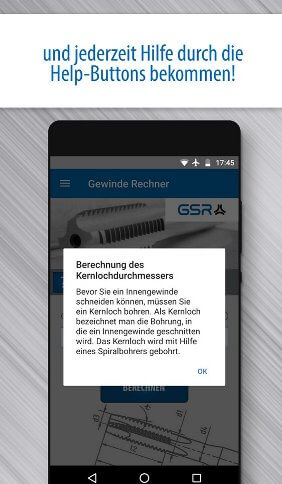 ---
Click here for a free download: GSR Thread Calculator App
Further features of the app
In the menu bar of the app you will also find links to our shop, blog and homepage and other social media channels, such as our WhatsApp support.